Cyber Monday is over, but you can still find discounts on tools to help you in your writing business. Below I've rounded up some end-of-year deals on editing software, design tools, email services, and more.
In some cases when you buy one of these deals, I will get a small commission that helps me cover the costs of running my blog for writers. If you'd rather not support this blog in that way, use your search engine instead to find the deal before purchasing.
Get these post- #cybermonday deals for authors and book designers!
Click To Tweet
---
Writing & Editing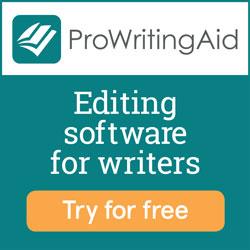 ProWritingAid
Pro Writing Aid is the best automated writing and editing assistant I've used. It offers four subscription options: 1-year, 2-year, 3-year, and lifetime. It also offers a free version you can play around with to decide if the paid one would be right for you.
I use ProWritingAid for a final review before submitting to publishers, and to do an initial overview when I'm editing for others. It checks grammar, punctuation, the flow of your words and how they sound when spoken — and much more. (Read my more in-depth review of editing apps here.)
After CyberMonday ended, the folks at ProWritingAid were kind enough to create a 25% off coupon for folks who missed it. Just use LOWRY25 when you check out. This makes a year-long subscription $37.50 and a lifetime subscription just $131.25.
Get ProWritingAid editing software for 25% off!
Click To Tweet
Autocrit
I've only done a trial membership to Autocrit, another automated copyediting program, and therefore can't speak with a lot of expertise on the product. But they're offering 3 moths of professional membership for $45; if you decide to stay with Autocrit after that, you'll pay $30/month once the three-month period is up. There is a lot of overlap with ProWritingAid, but AutoCrit also analyzes dialogue as well as offering genre-specific suggestions for language and pacing. It also gives the option of comparing your manuscript style to those of famous authors, such as J.K. Rowling and Stephen King. My impression was that it was geared more toward genre writers but would be less useful for writers of literary fiction or of niche genres. And while I ended up preferring ProWritingAid, I know fiction writers who adore Autocrit.
Scrivener
I've written short stories for most of my life, but when I began writing longer works, I had a hard time organizing them inside a Word or Google document. I tend to write scenes first, then put them in the right order later–all the cutting and pasting that requires can turn into a nightmare.
Scrivener software has been a great boon to my ability to write novellas and novels. I write an outline and start plugging scenes in, writing in whatever order comes naturally to me. I can easily revise and expand the outline as I go along and my ideas get more fleshed out. I can set scenes aside without deleting them.
Here's an image that illustrates the organizing capabilities of Scrivener:
You can get Scrivener 3 for Windows or Scrivener 3 for macOS for $45 each— or get both for a 25% discount of $70. While you're there, check out the iOS version for $19.99. Use the coupon code NANOWRIMO for 20% off your purchase. Use SCRIV3MAC if you're upgrading from Scrivener 2 to get a 45% discount.
---
SendPulse is an email marketing program similar to MailChimp, MailerLite, or Constant Contact. These services are essential for marketing your books and building a loyal readership, and  SendPulse is offers 20% off it's annual plans. I've used SendPulse to keep in touch with readers for more than a year. Before that, I used MailChimp, which is also a great service, but very expensive. SendPulse is cheaper and offers:
attractive design templates to help you create a great-looking reader newsletter.
the ability to customize newsletters for different readers. (I send different versions of my newsletter to readers who prefer different genres.)
the ability to automate a sequence of welcome emails to new subscribers. (I use this feature to offer free reads, coupons, and other special perks.)
The interface is different from MailChimp's, so there's a slight learning curve if you're moving over. (I talk about the transfer process in this article.) But support is very responsive, usually replying to email tickets within a few hours, if not earlier. Phone and chat support are also available. Once I got used to the interface, I found SendPulse easier to work with, more flexible, and more customizable than MailChimp.
Use the link below to get $10 off any plan and 20% off annual plans. A free plan is also available.
---

MissingLettr
MissingLettr is a tool I've used for a couple years now to help me share my blog posts across my social media channels, including Twitter, Pinterest, and Facebook. And if you sign up this weekend, you can get the service for 70% off—just $7/month instead of the usual $22/month—with a 30-day money back guarantee.
This is how it works: Whenever I publish a blog post, it creates a 12-month social marketing campaign for the post. A few minutes later, the campaign is ready for me to review. I can edit any of the posts I've proposed, or I can approve them as is. My blog post is then shared across my social media accounts for the next year.
If the post will become irrelevant in a few months–for example, a submission call with an approaching deadline—I just hit a button on my MissingLettr dashboard to request the creation of a 2-week, 1-month, or 2-month campaign. A few minutes later, this customized campaign is ready to go.
Get a free 2-week trial and 50% off your first three months. (Click "Check it out" in the banner at the top of the page.)
---
Thanks for reading! Know of any deals I should add? Tell me in the comments!
Roundup
If you don't want to scroll back up, here's everything again:
Thanks for reading! Know of any deals I should add? Tell me in the comments!
Awesome deals to help authors & creatives with marketing, book design, and more! #writer #design
Click To Tweet